Also known as: Climaplus 4s, solar glass, stopsol, ANTELIO, 4 season glass, four seasons glass thermo glass plus energy, stopray, sunergy, planistar, climatop, ultra N, climaplus sun.



Solar control double glazing - 4 season glass combination of thermal insulation and solar protection
Advantages of solar control double glazing
Four Seasons glass is cozy warm in winter and cool in summer. In this way, this solar glazing U comfort in all seasons. Less heat and therefore less heating costs, even with large window surfaces. Modern comfort, so no cold area at the window, the radiators are not necessarily under the window and still reduce condensation inside to a minimum. Environmentally friendly living with lower emissions of CO. Four Seasons glass is ideal for south facing facades with large glass surfaces and vertical portions of porches.
What is solar control double glazing
Thanks to recent technological advances, very special coatings can be applied to clear glass. These are processed in four seasons glass that is able to allow the light to a large extent, and to keep at the same time. the major part of the solar radiation. Four Seasons glass combines these qualities with excellent thermal insulation and is a glass type for all seasons. In Four Seasons glass is a sun control coating applied at the cavity side of the outside glass sheet.
Low solar heat transmittance
The extent to which solar radiation can penetrate through the glass, is specified using the solar factor SF. A low SF-value results in a reduced heating of the inner space as a result of solar radiation. The result is a more pleasant indoor climate, and also a reduced need for refrigeration. A low-value SF also leads to energy savings. This is particularly important for utility construction but also in residential construction is consideration growing. By the choice of glass for example, a veranda plays the sun protection also an important role so that this space both seasons winter and summer an affective and enjoyable expansion of the house.
Daylighting LTA
Due to the spectral selectivity (filtering action) the coating can be tinted double glazing a low SF-value combined with a relatively high daylighting. Solar control double glazing eliminates dark glass facades. There have almost no concessions to be made to the daylight. A transparent facade gives the users of a building optimum contact with the outside world and color neutrality of the light is not violated. Daylighting is specified using the LTA value which indicates how much visible light entering through the glass.
U-value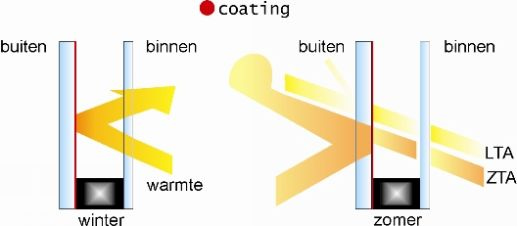 Four Seasons glass also has excellent thermal insulation properties with U-values in the class of standard HR ++.
Range
Four seizonen glass or high performance thermal insulating glass, forms the core of the range high performance glass. It can be combined with all other functions: solar shading sound insulation, self-cleaning, protection of persons and property, decoration.
How do you compare solar control glazing?
Light transmission (LT): depending on the thickness and the color intensity of the glass and also of the type of coating, enabling these types a different percentage of visible light through.
Light reflection: there are strong and less reflective solar control glass in gray, green, brown, blue, yellow and pink. The so-called 'low reflective' solar control glazing is new and should be recommended in the vicinity of airports to avoid radar interference.
Direct Energy Transmission (DET): depends on the manufacturing techniques used, the percentage of heat energy that penetrates directly in through the window around is different.
Total Energy Transmission (TET): to know how much heat actually penetrates into the chamber, yet to the Direct Energy Transmission heat energy are added which is first absorbed by the glass and then inwardly emitted again. The sum provides the Total Energy Transmission or solar factor (SF).
Types of solar control glass that we can offer
Here you can see which types of solar control glass we can supply with the corresponding Lta and SF values.
| Types of solar control glazing: | Lta/Zta |
| --- | --- |
| Sunenergy Neutraal | 59/46 |
| Sunenergy Groen | 46/30 |
| Sunenergy Blauw | 49/32 |
| Stopray Galaxy | 40/21 |
| Stopray Silver | 43/25 |
| Stopray Neutral | 50/40 |
| Stopray Carat | 52/26 |
| Stopray Safir | 61/32 |
| Stopray Elite | 67/37 |
| Stopsol Classic Brons | 21/32 |
| Stopsol Classic Grijs | 19/32 |
| Stopsol Classic Helder | 39/47 |
| Stopsol Super Silver | 27/59 |
| Stopsol Susi dark blue | 36/27 |
| Stopsol Susi Green | 47/28 |
| Planistar 4S | 70/40 |
| Antelio Zilver | 57/45 |
| Antelio Groen | 42/31 |
| Antelio Havana | 19/29 |
| Cool Lite SKN 172 | 66/41 |
| Cool Lite SKN 165B | 60/32 |
| Cool Lite SKN 154 | 50/26 |
| Cool Lite KN 155 | 49/38 |
| Cool Lite KS 147 | 44/27 |
| Infrastop | 70/40 |
| Infrastop | 66/33 |
| Infrastop | 50/25 |
| Infrastop | 50/30 |
| Infrastop | 31/17 |
| Briljant 66/33 | 66/33 |
| Briljant 50/25 | 50/25 |
| Briljant 30/17 | 30/17 |
| Neutral 70/40 | 70/40 |
| Neutral 53/40 | 53/40 |
| Neutral 51/37 | 51/37 |
| Neutral 67/34 | 67/34 |
| Neutral 52/29 | 52/29 |
| Silver 50/30 | 50/30 |
| Blauw 50/27 | 50/27 |
| Grijs 38/35 | 38/35 |
| Groen 62/37 | 62/37 |
| Neutraal 70/40 | 70/40 |
| Neutraal 53/40 | 53/40 |
| Neutraal 50/30 | 50/30 |
| Sun Guard High SN 40 | 40/24 |
| Sun Guard High SN 51 | 70/38 |
| Sun Guard High SN 62 | 62/32 |
| Sun Guard High SN 70 | 51/26 |
| Sun Guard HP Light blue 63 | 63/52 |
| Sun Guard HP Neutral 61 | 61/42 |
| Sun Guard HP Neutral 50 | 52/41 |
| Sun Guard HP Silver 43 | 43/31 |
| Sun Guard HP Neutral 40 | 41/33 |
| Sun Guard Pewter 30 | |
| Silverstar Sunstop T Neutral 50 | 45/38 |
| Silverstar Sunstop T Blau 50 | 43/36 |
| Silverstar Sunstop T Blau 30 | 27/23 |
| Silverstar Sunstop T Silber 20 | 18/17 |
| Silverstar Combi neutral 40/21 | 40/21 |
| Silverstar Combi neutral 50/25 | 50/25 |
| Silverstar Combi neutral 50/37 | 50/37 |
| Silverstar Combi neutral 61/32 | 61/32 |
| Silverstar Combi neutral 62/45 | 62/45 |
| Silverstar Combi neutral 70/35 | 70/35 |
| Silverstar Combi neutral 70/40 | 70/40 |
| Silverstar Combi neutral 43/27 | 43/27 |
| Ipasol Platin 25/14 | 25/14 |
| Ipasol Platin 31/17 | 31/17 |
| Ipasol Shine 40/21 | 40/21 |
| Ipasol Neutral 48/25 | 48/25 |
| Ipasol Neutral 50/25 | 50/25 |
| Ipasol Platin 47/28 | 47/28 |
| Ipasol Neutral 52/29 | 52/29 |
| Ipasol Neutral 60/31 | 60/31 |
| Ipasol Neutral 68/34 | 68/34 |
| Ipasol Neutral 73/39 | 73/39 |