Also known as: laminated safety glass, high impact resistant anti-bandit glass, laminated stratobel, laminated stadip protect, anti burglary glass, vandal-proof glass, P4a, P5a, P6b, P7b, P8b.



Burglary glass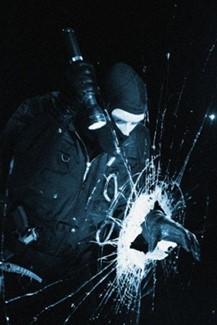 In matters of burglary protection of objects, the following ground rule is applicable: basic mechanical security has priority over electronic warning systems. Only a sound mechanical barrier is able to set a massive time delay and a high level of resistance against a burglar. For this reason, mechanical security can only be enhanced through electronic systems, it can never be replaced. Burglar-proof Security Glass ensures the highest level of mechanical protection and is therefore especially suitable for the glazing of private homes as well as particularly endangered objects, such as art galleries, museums, banks, embassies and jewellery shops.
Testing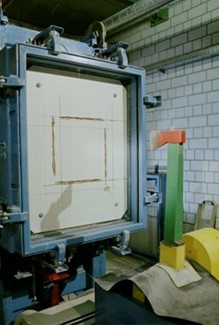 The European standard EN 356 regulates the testing procedure for the evaluation of burglar-proof glazing. For burglary testing, an axe is fastened into a machine.
The objective is to strike an opening of 40 x 40 cm into the tested sheet. The axe is mechanically handled and strikes precisely to the millimetre and with defined force. The number of strikes that are needed to produce the designated opening then define the resistance class.
Classification
In accordance with the European Norm EN 356 Anti vandalism: proof against repeated beating or smashing with hard objects. Testing methodology: a spherical ball made of tempered steel, weighing 4050 gr is dropped three times on the sample, without giving it any original impetus. The impacts of the 3 projectiles results in an equilateral triangle, the sides being 130 mm wide.
| Class | Drop height (mm) | Number of strikes | Cumulative energy (J) | +/- Thickness (mm) | +/- Weight (kg/m²) |
| --- | --- | --- | --- | --- | --- |
| P 1 A | 1500 | 3 | 170 | 6,5 | 16 |
| P 2 A | 3000 | 3 | 360 | 7,0 | 16 |
| P 3 A | 6000 | 3 | 720 | 7,0 | 17 |
| P 4 A | 9000 | 3 | 1080 | 9,5 | 22 |
| P 5 A | 9000 | 9 | 3240 | 10,0 | 23 |
In accordance with the project of de European Norm EN 356

Break-in retarding:
Resistance against destruction of the glazing with the purpose to make an aperture of 400 x 400 mm by means of hammer and axe.
Testing methodology:
Breaking the glazing with a hammer and subsequently enlarging the hole with an axe
| Class | Number of strikes with hammer and axe | Accumulated energy | +/- Thickness (mm) | +/- Weight (kg/m²) |
| --- | --- | --- | --- | --- |
| P 6 A | 49 | 14850 | 14 | 30 |
| P 7 B | 64 | 17400 | 22 | 50 |
| P 8 B | 72 | 25200 | 27 | 60 |